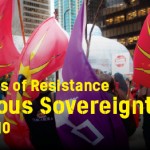 The 2010 People's Summit is happening from June 18th to 20th, 2010, in Toronto, Ontario, Canada.
On Friday June 18th, from 6.30-10pm, the opening night launch, "Stories and Solutions from North and South" is at the Carlu, 444 Yonge Street.
On Saturday, June 19th, and Sunday June 20th there will be two full days of workshops, panels, lectures, discussions, performances, film screenings, and open-space plenaries on global justice issues.
Most Summit events are taking place at Ryerson University, with some Allied Events in other locations around the city, including the University of Toronto. A complete program and schedule will be online by the first week of June.
Check in starts at 9am, with sessions beginning at 10am.
Access to the Summit is based on a sliding scale – no one will be turned away for lack of funds, but donations to Summit organizing are appreciated.
Register here and indicate which workshops you are most interested in attending. By signing up here, you are not committing to attending those workshops, but helping us gauge interest in order to designate space.