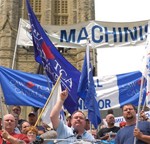 Event:           G8/G20 PUBLIC RALLY AND MARCH
Location:     Queen's Park, Toronto (March ends at Trinity Bellwoods Park)
Date/time:    Saturday, June 26 at 1:00 pm
The Canadian Labour Congress (CLC) will be providing buses from various locations to and from the event.
Oshawa will have buses provided as we have sufficient numbers.
We expect that buses will leave Oshawa (CAW Local 222 Hall) around 11:00 am and the return trip will be leaving Toronto around 3:00 pm.
Seats on the bus must be reserved now in order to provide numbers to the CLC and ensure that we will have the transportation they are offering.
To reserve your seats please e-mail the Labour Council office indicating the number of seats you will need, names if possible at this time, and your union.  Durham Region Labour Council e-mail address: durhamlc@durhamlabour.ca
We will confirm details as soon as we have the numbers needed and you will be contacted.